Roots 51 Riddim 2014 OUT 9th of May
Gideon Production delivers a new Max RubaDub Riddim Selection suitable for spring. This time in a honored Roots composition. On this with horns loaded instrumental we find the usual suspects as seen on former releases. New on board are such as the Jamaican newcomer Jessie James or the in Holland acclaimed Smiley.
On the juicy Roots 51 Riddim you will find 18 songs full of passion and power including a saxophone version as sweet as sugar. As you will hear Max excelled himself once again to pitch this creation to you. Ready fi sweet Roots Reggae Music?
Label: Gideon Production
Publishing: We Collect Things / Edition Rootdown Publishing
Riddim by: Max RubaDub
Saxophone by: Thomi Geiger
Mixed & Mastered by Mischa Studer at SoundMax Studio
Cat. No.: GP-051
LC: LC-24940
EAN Code: 7640149620443
Web: www.gideonproduction.ch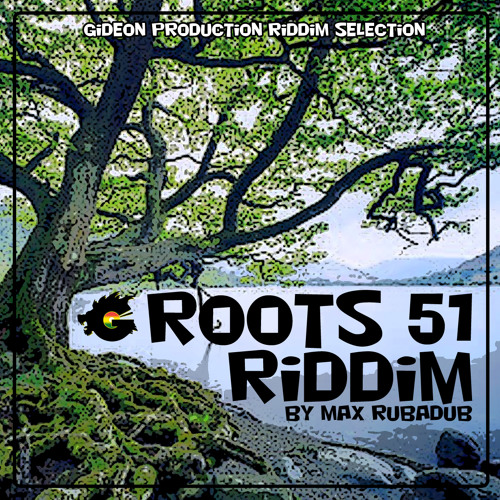 Tracklist:
1. Dubplate Machine - Max RubaDub feat. Mandinka Warrior
2. Dance tun up - Max RubaDub feat. Badd Cash
3. Sound Boy - Max RubaDub feat. Jessie James
4. Come inna di Yard - Max RubaDub feat. Di Govanah
5. Old Time Face - Max RubaDub feat. Dutchie Gold
6. Dun Show - Max RubaDub feat. Redwan
7. Highest Grade - Max RubaDub feat. Lasai
8. My Business - Max RubaDub feat. Smiley
9. South Wild West (Desperado) - Max RubaDub feat. Mr. Traffic
10. Outanational Connection - Max RubaDub feat. Baba The Fayahstudent
11. Gifted & Dangerous - Max RubaDub feat. Cookie The Herbalist
12. Rudie - Max RubaDub feat. Collie Herb
13. Easy nuh - Max RubaDub feat. Rivah Jordan
14. Dancehall Fever - Max RubaDub feat. Tsunami
15. So many Time - Max RubaDub feat. Karubel
16. Seeking Profit - Max RubaDub feat. Raszor Brankata
17. No Coward - Max RubaDub feat. Baba & Jah Angel
18. Sax Version - Max RubaDub feat. Thomi Geiger
Released by:
Gideon Production
Release date:
9 May 2014
KEEP SUPPORTING THE INDEPENDANT INDUSTRY