#OUTNOW #RankingJoe - Don't Sell Your Soul - 10" #BasqueTimesRiddim #VOL 2 produce by #RevolutionaryBrotherMusic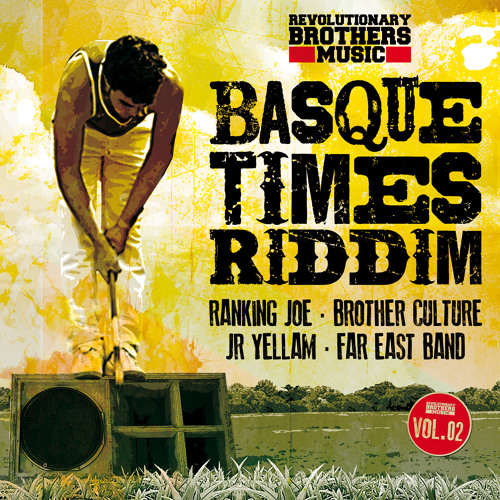 Revolutionary Brothers Music rises up to the next level with its "Basque Times Riddim". This is a version of the famous English rhythm now rescued and arranged by the German "Far East Band". The project includes the launch of two 10" vinyls, Volume 1 and Volume 2 published on January and May 2014; and besides the CD "Basque Times Riddim CD Gold Edition".
The CD is the final step of the riddim series, collecting all the songs of the first two vinyl volumes along with 2 new vocal versions, a melodica version and a dub version.
This second vinyl of Basque Times Riddim series brings three new tunes by the jamaican veteran Toaster Ranking Joe, the Brixton MC Brother Culture and young and talented french singer Jr Yellam, including the instrumental version played by the German Far East Band. Pure Roots music.
The design wants to reflect the mix of sound system culture between and the Basque Country, a mixture of music and traditions, accompanying the force of Basque Times Riddim sound.
www.revolutionarybrothers.com
VINYL AVAIBLE on best online records shop worldwide. (DubVendor, Juno, ebreggae, Irie Ites, Patate Recods, BuyReggae... and many more)
Via Irie Ites
Also directly from us: revolutionary_brothers@yahoo.es
DIGITAL DOWNLOAD
Available on 10" VINYL on best record shops!
:
BUY HERE
Also write to us to get one straight: revolutionary_brothers@yahoo.es
KEEP SUPPORTING THE INDEPENDANT INDUSTRY